BOB HUSTWIT -- THE INTERNET ANSWER MAN
Over 120 shows on over 50 different talk radio stations around the country between July of 1996 and July of 1997. Due to the tremendous response to Bob's Platinum Web Site Services, Bob has been doing only a few talk shows since then.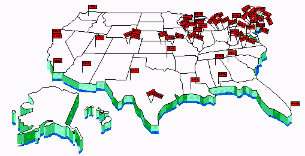 Click the map to see a larger version (around 40K)
Here are some of the talk radio stations on which Bob has appeared.
KBEQ FM 104.3, Kansas City, MO
KFMF RADIO, Chico, CA
KKKK FM 99, Midland, TX
KOA AM 850, Denver, CO
KOGO AM 600, San Diego, CA
KOMO AM 1000, Seattl, WA
KPEL AM 1420, Lafayette, LA
KPMO AM 1300, Mendocino, CA
KRMG AM 740, Tulsa, OK
KSVC AM 980, Richfield, UT
KTAR AM 620, Phoenix, AZ
KTRS, St Louis, MO
KVOE AM 1400, Emporia, KS
KWBI FM 91.1, Morrison, CO
WABJ AM 1490, Adrian, MI
WCHS AM 580, Charleston, WV
WDJC FM 93.7, Birmingham, AL
WERZ FM 107, Exeter, NH
WFBG AM 1290, Altoona, PA
WFIR AM 960, Roanoke, VA
WHK WHLO WTOF, Akron, OH
WHUR FM 96.3, Washington, DC
WLLH AM 1400, Chelmsford, MA
WNTM AM 710, Mobile, AL
WOND AM 1400, Linwood, NJ
WPHM AM 1380, Port Huron, MI
WRKL AM 910, Pomona, NY
WSDR AM 1240, Sterling, IL
WSYB AM 1380, Rutland, VT
WYSL, Avon, NY
Visit System Of Life Institute's home page.
Go to Platinum Web Site Services' home page