Who is Bob Hustwit?
. . . and why should you care?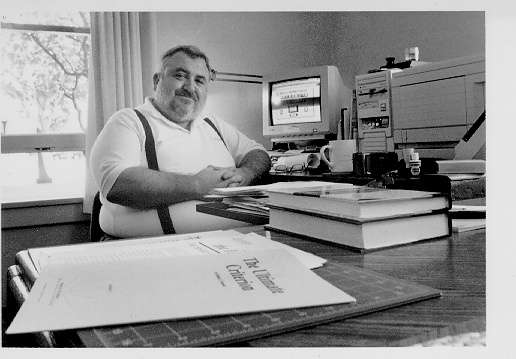 Photo Courtesy of Five Cities Times-Recorder, Arroyo Grande, CA

Since November of 1995, Bob Hustwit has been working on his company's Web site, http://soli.com. Well, that's not exactly ALL he's been doing. Hustwit has appeared as an Internet expert on talk radio shows

all over the USA. Known as "The Internet Answer Man," he made over 150 appearances in the year following July of 1996. Back at Hustwit's Web site, http://soli.com, his constant attention has produced excellent results, with over 280,000 visitors since he started on January 1st of 1996. "The traffic is building nicely," says Hustwit, "We hit 25,000 visits in our first year, and then it took us just 6 months to hit our second 25,000. And," he adds, "if I can do it, anybody can do it." Maybe so, and then again, maybe not. Bob Hustwit has some unique qualifications and talents in this industry. As far back as 1978 Hustwit was involved in programming and online services.
In 1981 he was V.P. of The Source Telecomputing, a short-lived but far-sighted online service ultimately absorbed into CompuServe.

In 1987 Hustwit opened his philosophy school/publishing company, System Of Life Institute.

Hustwit pioneered again in 1989 with World Library, the first company to put a significant number of literary works on CD-ROM.
By the time he sold his interest in the company, World Library was one of the largest electronic publishers in the world. "My parents would have been proud," says Hustwit, "they loved to read, and instilled a love of reading and a love of books in me from the time I was a child." Bob Hustwit was born in Westerly, Rhode Island. He was raised in the tiny (900 population) mill town of Bradford, Rhode Island, and moved to California in 1970. He lived in Orange County, California until 1990, when he moved to Pismo Beach, on California's Central Coast, where he now resides. Bob remains a premiere creative force, designing and writing software and software systems as well as continuing his researches in philosophy, artificial life/intelligence, and, as time permits, acitvely pursuing his other interests, including model railroading (N-scale), magic, (Bob has been a member of the Magic Castle since 1977, and is a 24-year member of the International Brotherhood of Magicians,) bike riding, book collecting, model building, and woodworking, to name a few. Today, through Platinum Web Site Services, he's ready to share what he knows about creating and attracting visitors to Web sites with other Web site owners around the world.

-0-


Go To SOLI's Home Page. Go back to the 'What is SOLI?' page.













-